Bon Odori festival draws about 20,000 people to Camp Zama | Article
6 min read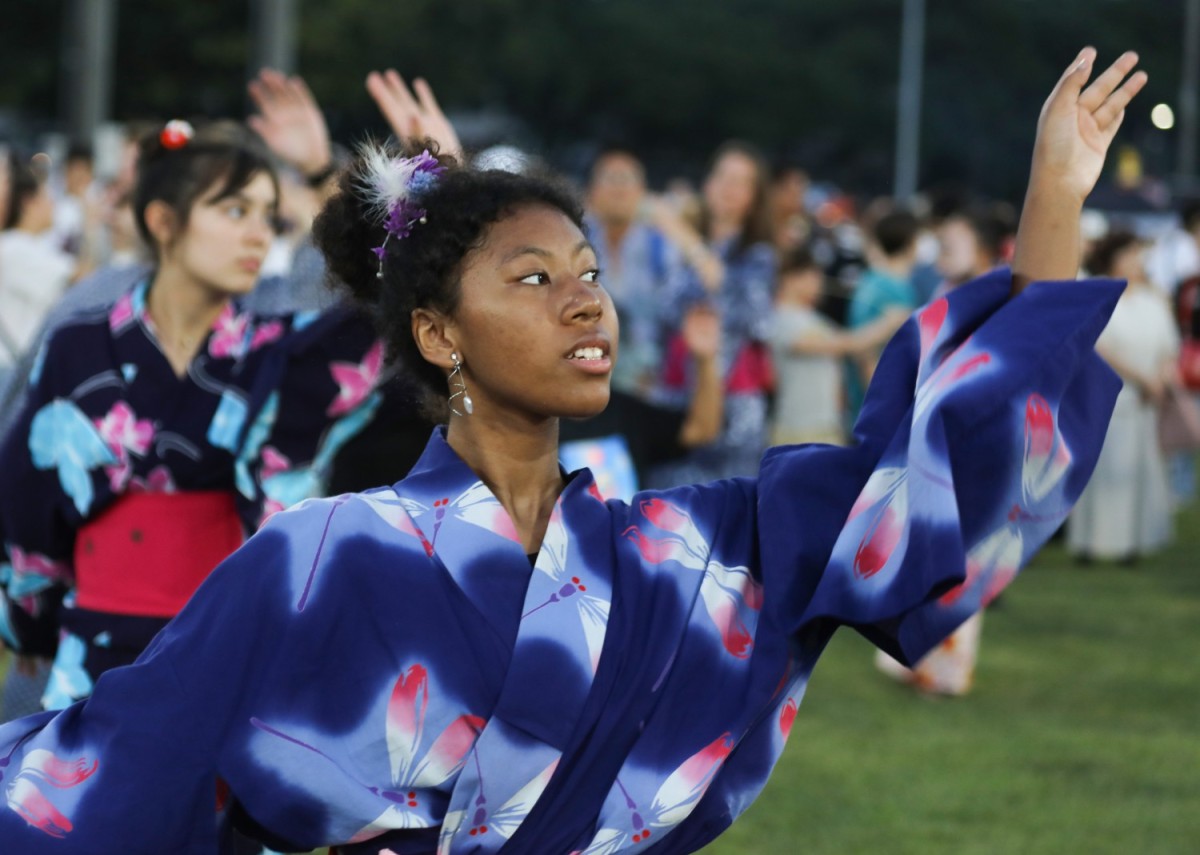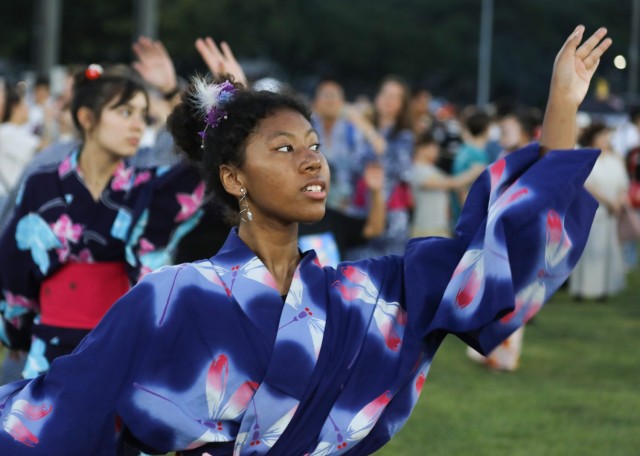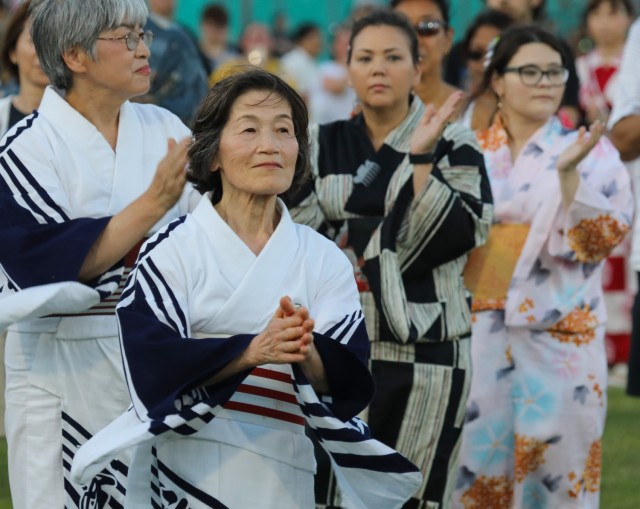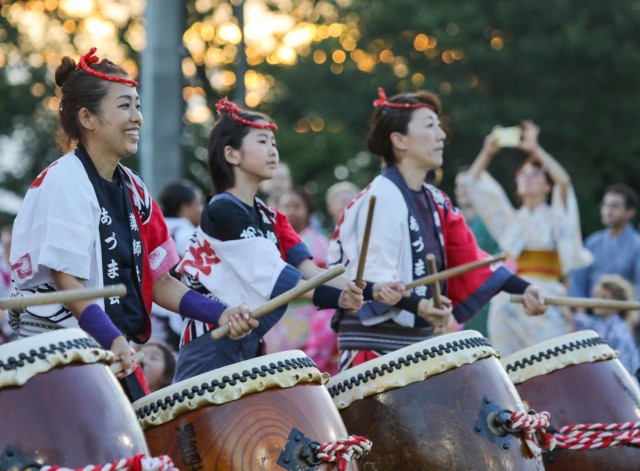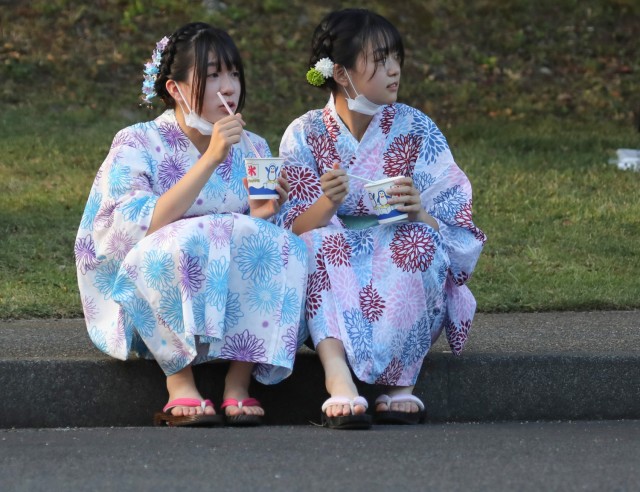 CAMP ZAMA, Japan – With she and her family all dressed in traditional Japanese "yukata" robes, Susan McGregory said they chose to embrace the culture while at the Bon Odori festival for the first time here Saturday.
"It's not every day military families get to come to Japan," she said, "so while we're here we want to experience as much as we can."
The McGregory family was among the roughly 20,000 people who attended the Japanese festival, a tradition that has been celebrated at Camp Zama since 1959.
The event, which was held at Yano and Rambler fields, included live entertainment and bon folk dancing, vendors serving American and Japanese food, children's games, military static displays, and fireworks.
As the family walked around to see the attractions, Susan's husband, Capt. Justin McGregory, the 35th Combat Sustainment Support Battalion chaplain, said the event would be a memorable one for them.
"We've taken a lot of photos," he said, "and we hope that this will be an experience that we never forget."
Bon Odori dates back more than 500 years and is a Japanese Buddhist custom that honors the departed spirits of one's ancestors. To mark the occasion, many communities across the country set up bon towers, which revelers dance on and around to the tune of various folk songs.
U.S. Army Garrison Japan organized the festival alongside its Japanese partners at Camp Zama, the only installation in Japan shared by the U.S. Army and Japan Ground Self-Defense Force.
As he kicked off the bon dancing, Col. Marcus Hunter, garrison commander, expressed gratitude to the crowd, which included thousands of Japanese guests, for turning the event into a success.
"Thank you for letting us celebrate such an important part of your culture and being able to share in your rich history," he said.
He acknowledged the hard work of those behind-the-scenes who made it possible for the installation to hold the festival, its largest open-post event of the year.
Hunter went on to recognize Kiyomi Shimizu, chairperson of the Zama City Women's Association, and volunteers from the association for helping community members learn the bon dances.
Two of those volunteers, Toyoko Akutagawa and Masako Kawasaki, have volunteered for over 50 and 20 years, respectively, to prepare American personnel and their families for the festival, he said.
"Just think of the thousands of people you've impacted over those decades with your volunteerism," he said. "Thank you very much."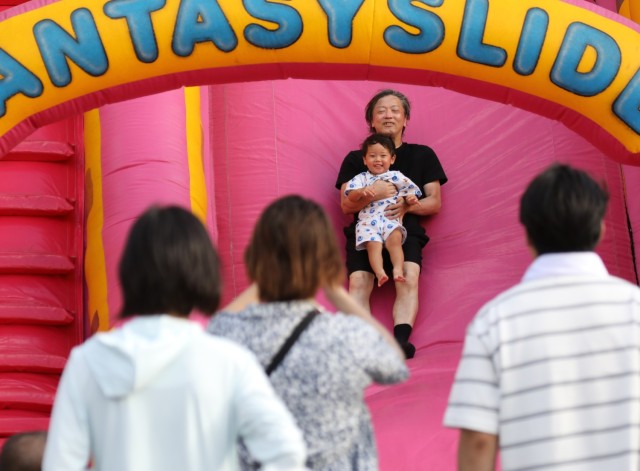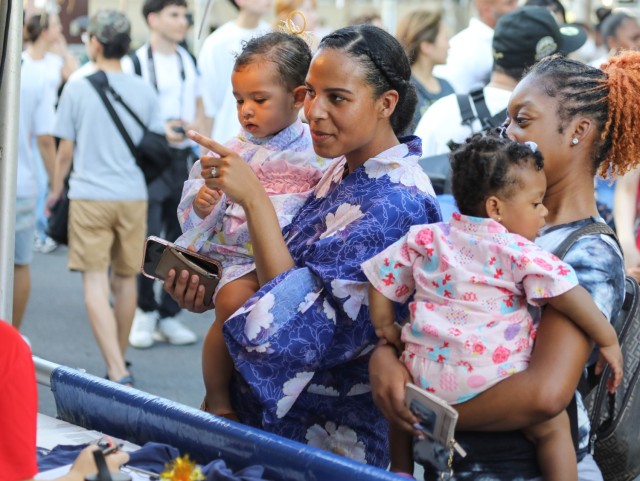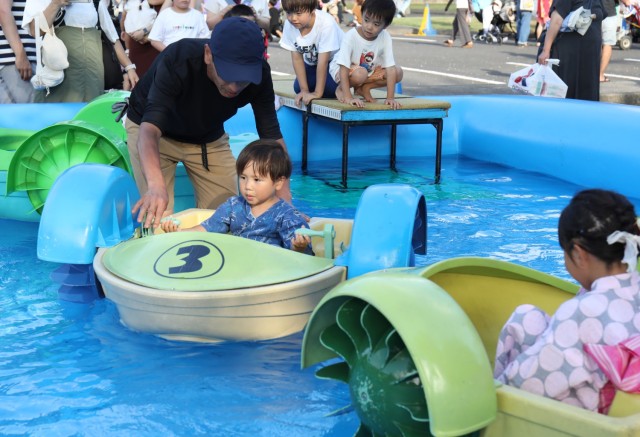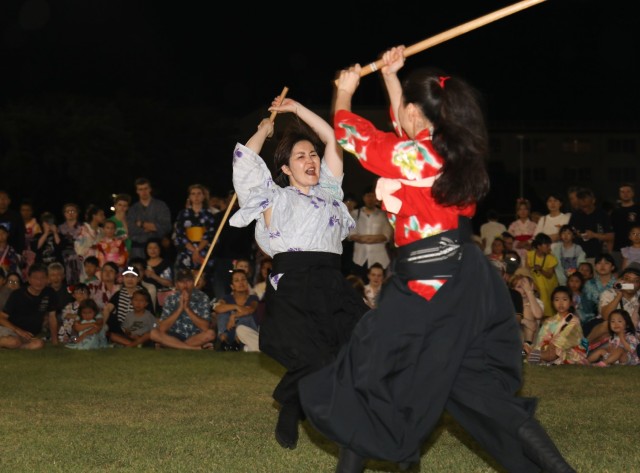 Earlier in the day, Princess Fortune, a military spouse, and her friend, Spc. Alexis Washington, an information technology specialist for U.S. Army Japan's G-6 office, walked around with their daughters who wore "jinbei" attire, a traditional outfit with shorts.
"It's our first time [at this event], so we just wanted to get her involved in Japanese culture," Fortune said of her 1-year-old daughter, Ivory.
Dressed in a yukata, Washington held her daughter, Sofia, 1, in her arms and said the open-post event was a unique experience for her family, who has also explored areas outside the gates.
"I like Japan," said Washington, who arrived here less than a year ago. "It's really peaceful and it's safe for my daughter, so I enjoy it a lot."
The bilateral festival also provided Japanese guests an opportunity to immerse themselves in an American environment.
Wearing a New York Yankees baseball cap, Shota Ogino said he was impressed with the size of the installation and appreciated the chance to view it in person.
His wife, Chinatsu, said they and their two boys, ages 1 and 3, recently moved to Zama City, and her friends had told her to check out the on-post festival.
Shota said he and his wife looked forward to the event, since they had previously visited Hawaii and enjoyed learning about the American way of life.
"We liked the American culture, so we wanted to come and see the culture again," he said. "It's the best."
In his remarks, Col. Kenji Honda, commander of the 4th Engineer Group and JGSDF Camp Zama, said the festival continued to strengthen the U.S.-Japan alliance.
He then asked the visitors to celebrate with their American friends as they danced at the red- and white-striped bon tower at Rambler Field.
"To be good partners, it is important to understand each other's cultures and customs," Honda told the crowd. "And tonight's bon dance, which is a traditional Japanese summer event, is a great opportunity to enhance that understanding."
Related links:
U.S. Army Garrison Japan news
USAG Japan official website
link