Cabin Culture: Traditions and Hospitality of the Neshoba County Fair
5 min read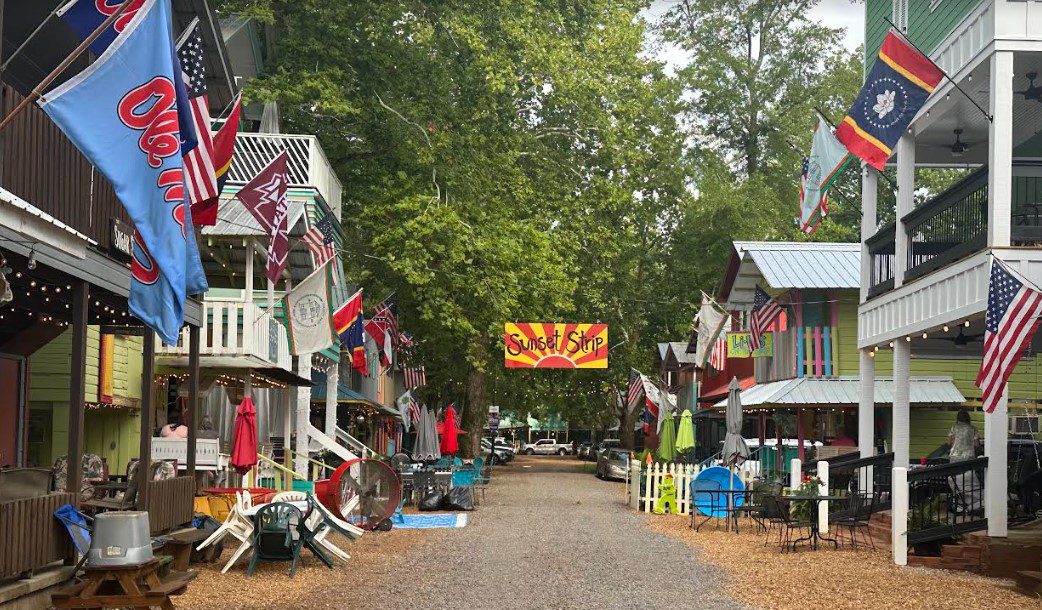 Whether it is a first-time trip to the Neshoba County Fair or an annual tradition, if you walk by one of the cabin porches on Founder's Square, you'll be greeted as if you've been there your whole life.
The 2023 Neshoba County Fair marks 134 years of packing the fairgrounds with attractions, food, music, racing, and political stumping. But the cabin culture sets the Neshoba County Fair apart from any other fair.
Cabin Tradition and History
The Neshoba County Fair Association does have a few rules for cabin owners, which is why there is some uniformity in design—the main rule: open porches. Hospitality is the tradition of cabin life at the Neshoba County Fair. 
Visiting the Neshoba County Fair is similar to visiting a city. Over 600 cabins are arranged in clusters resembling neighborhoods. The families choose where to stake their claim based on what type of activity they want from the fair. Those looking for a more laid-back experience may have one of the cabins facing The Grandstand, where activity flurries throughout the day. Other families are right in the middle of the action for the entire week of the fair—with cabins facing Founder's Square. The pavilion houses many activities, including a nightly dance and the ever-famous political stump speeches.
The cabins range from one-story to three-story with one main commonality: the porch is always open, and the food is always ready. 
With over 600 cabins and nearly as many RV hookup spots, electricity and plumbing are a given though that wasn't always the case. 
"When my husband's family first got the original cabin," said Jeannette Mars, owner of the Mars-Miller cabin on Founders' Square, "It had one lightbulb that hung down. It was dark in here! And there was a space between the ceiling and the wall for air to flow through— just open. Anything could get in, and anyone could see!" 
The Mars-Miller cabin was purchased in 1942 for $100 from the original owner. It was not unusual for the cabin to be crammed tight with nearly 30 people. Over the years, the cabin fell into disrepair, and Mars had it rebuilt to modern standards. What was once a very primitive cabin now has built-in bunk beds and dressers, closet space, and a fully-functional kitchen—everything a home needs. 
But cabin life today looks much different from the way of life when the fair was initially launched in 1889. What started as the Coldwater Fair became the Neshoba County Stock and Agricultural Fair in 1891, eventually The Neshoba County Fair. Wagons and tents were the only shelter options when the fair began. Over the years, that gave way to primitive, single-story log cabins, then two-story cabins, and now even three-story cabins. 
Hospitality hooks repeat cabin families
Whether it is a first-time trip to the Neshoba County Fair or an annual tradition, if you walk by one of the cabin porches on Founder's Square, you'll be greeted as if you've been there your whole life. That's one of the things that keeps Jeannette Mars coming to the fair every year. 
"I first came to the fair in 1968," said Mars. "I was coming to meet my future in-laws for the first time, and oh, I was so dressed up!"
Mars had dressed to impress her future family— not knowing all about the red dirt that inevitably turns to mud, caking shoes, and tracked in across cabin thresholds. Not one to enjoy dirtiness, Mars said her mind was changed after a rain shower. 
"I looked out and over at the Grandstand was almost a lake of mud," said Mars as she smiled. "And the teenagers were jumping and swimming in it, and running through covered in mud, and everyone was just laughing and carrying on with the neighboring cabins and their families… I was hooked." 
The Mars-Miller cabin overlooks Founders' Square. Every day, all day, there's an event or a bevy of political speeches or programs at the pavilion that Mars can see from her cabin's front porch, where she and her family will sit and greet people, offering bottled water or Gatorade and a brief reprieve from the heat. 
At night, the Founder's Square pavilion becomes a dance floor. Mars says her hospitality takes a different turn.
"I sit out there, and I see those teenagers, and I watch them," said Mars. "And if I see them doing something they're not supposed to, I tell them to stop, or I'll call their Mama! And they stop, too. I'm the mean grandma." 
However, Mars is anything but mean, and she treasures each visitor her cabin gets every year. Inside the Mars cabin reveals her love for these visitors with framed and displayed Fair posters from years past, each signed by every visitor she received that year. 
"I started doing this in 2000," said Mars, pointing out a signature. "That was my grandson's (signature). He was just learning to write his name. Now a lot of these kids that signed that year are young professionals." 
Some of the signatures belonged to folks who would visit the fair and not come back– many of them are from neighbors and their kids, and the signatures have shifted slightly as the writing of the autograph has aged. Growing up and growing old together is what brings these families back each year. 
"We have friends here that we only see during the fair, and we won't see them again until next year," said Mars. "But it will always pick up where we left off." 
Many of the cabins have been in the family for generations. Mars said that one of the biggest draws for families is how everyone looks out for each other, especially the kids.
"We all cook, and the kids will go door-to-door to see what is being cooked, and they'll eat where they want and get fed! Here, we are all family, and the kids belong to all of us," said Mars. 
Get a taste of cabin culture at the Neshoba County Fair from now through July 28th. And when you stop by Founders' Square, leave your mark by signing the poster at the Mars-Miller cabin. Jeannette would love to have you. 

link