Delta Phi Lamdba provides space for students interested in Asian culture | Campus Events
5 min read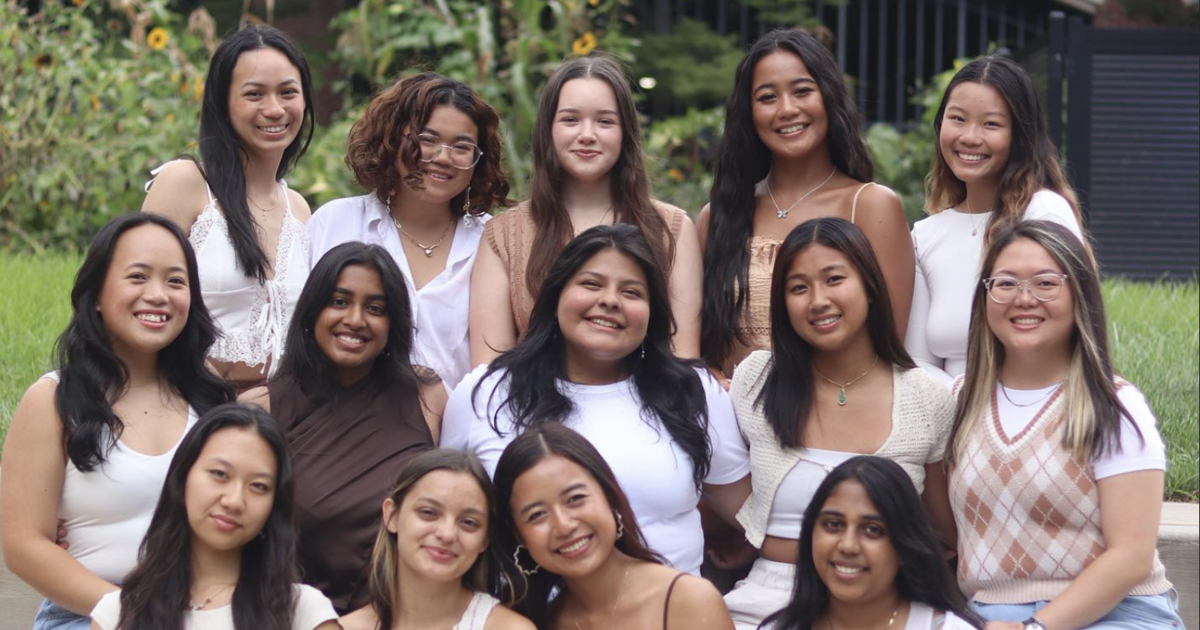 Delta Phi Lambda, an Asian-interest sorority, was chartered in March 2020 at the University of Tennessee by seven women eager to spread and celebrate Asian culture and community. Over three years later, the sorority continues to foster that community.
Angel Miñoza, a senior majoring in marketing with a collateral in entrepreneurship, started college in 2020 and rushed Delta Phi Lambda that spring semester. She has held several leadership positions in the sorority, including academic chair and sisterhood chair, and is now the president.
"We're doing this because we want to provide a space for not only just the Asian community but other minorities or just people who want to engage with us," Miñoza said.
Miñoza, who is from Chattanooga, Tennessee, was never around many people who were able to understand and appreciate Asian culture. She had looked into joining Panhellenic sororities before realizing how expensive they were. A friend who Miñoza had gone to school with mentioned Delta Phi Lambda. She decided to rush.
"I just wanted that sense of community because I'm an introvert if you're new to me," Miñoza said. "So once I get comfortable, that's when you can see my bubbly personality. DPhiL has created that space for me."
Clarissa Trent, a junior studying anthropology and museum and curatorial studies, had no intention of joining a sorority. But her friend, Sunniva Dough, had been in contact with people in Delta Phi Lambda and invited Trent to dinner with them. Trent attended their first recruitment event because Dough did not want to go alone.
During the first event, Trent recalled an active sister complimenting Trent's Ratatouille shirt. That person, Abigail Kaneytai Srisavath, ended up being Trent's "big," or an older sorority sister who acts as a mentor.
Trent finished recruitment with Dough and got a bid. She is now the vice president of internal affairs.
"It becomes more personal when doing these cultural things with each other because there's a certain understanding that we get it," Trent said. "And it's also creating that safe space."
There are currently 15 active members in Delta Phi Lambda. Because it is a smaller group of sisters, almost everyone in the sorority holds a leadership position, and many of them hold multiple. This is common in multicultural councils, Miñoza said. There are tiers of roles, including executive leaders overseeing chairs such as philanthropy, programming, performance and many others.
Miñoza and Trent both described the extra work that goes into communicating with their sisters when forming relationships that are both professional and personal.
"You just have to work hard for the friendships," Miñoza said.
Having difficult discussions is necessary for those relationships, as well as for the growth of the sorority as a whole. And growing is a key goal for the sorority. Part of the way the sorority continues to thrive is through the events it hosts on campus and the work they do with its local and national philanthropies.
Malaika Nallabantu is a senior studying biological sciences with a concentration in biochemistry and molecular biology and is Delta Phi Lambda's philanthropy chair. She rushed this past spring and is currently studying for the MCAT. She did not know about the many multicultural sororities until recently, and she was recruited into the sorority by Trent, who had a class with Nallabantu.
Delta Phi Lambda's national philanthropy is American Bone Health and raising awareness for osteoporosis. Their local philanthropy is Special Spaces, an organization that creates dream rooms for children with cancer. Trent was the person who took the initiative to change their local philanthropy to Special Spaces, and the sorority decided on the philanthropy together. The local philanthropy allows them to get involved in the community with an organization they feel passionate about.
Nallabantu recently held Delta Phi Lambda Week, a week where the sorority promotes its local and national philanthropies. The events are often on a small scale, sometimes funded by the sisters themselves. They tabled to raise awareness for their philanthropies and hosted various other events throughout the week such as a Haiku night, a game night with other organizations and a sisterhood potluck.
The sisterhood potluck allowed the sisters to bring dishes from their individual cultures to the group. Trent, who was adopted from South Korea as a child, brought a chicken casserole her mom used to make.
"We're all here to learn about each other, and sharing that experience is very important and being inclusive is very important," Nallabantu said.
Trent recalled the first time she visited her big's apartment to see her sisters making Lao sausage, egg rolls and fresh rice. As an adopted child, these were things Trent had not had. A formative memory for Trent, she also recalls it affecting her sisters who did not understand how different their experiences were growing up.
Delta Phi Lambda is not Asian-exclusive: It is Asian-interest. This means anyone interested in Asian cultures can join. Within the sorority, some members are not Asian. Miñoza also stressed that Delta Phi Lambda wants to help create a space for anyone who feels they are not "Asian enough."
"They're there because they genuinely love the people who are a part of the sorority and they wanted to get to know them better," Nallabantu said. "But also they fell in love with the values and traditions and everything that comes along with the sorority."
Creating an inclusive environment comes not only from within Delta Phi Lambda but also from relationships with other multicultural Greek organizations and advocating within the greater UT community.
"The MGC council is very close-knit. It's more of like, each chapter is so small we kind of have to rely on each other to support each other and build that foundation for upcoming classes that we might have," Nallabantu said.
As part of the president's cabinet, Miñoza was able to meet with Chancellor Donde Plowman. Plowman shared her plans for Greek life and heard concerns.
Trent, when asked by Miñoza what concerns to bring to Plowman, brought up low minority enrollment. Miñoza noted MGC's role in advocating for minorities looking at UT. She wants to build relationships with high schools around Tennessee to help show students that UT has a place for them.
"Everyone deserves to be heard," Miñoza said. "And we want to provide that space."
link