Encounter Festival – Community and Traditions stage
4 min read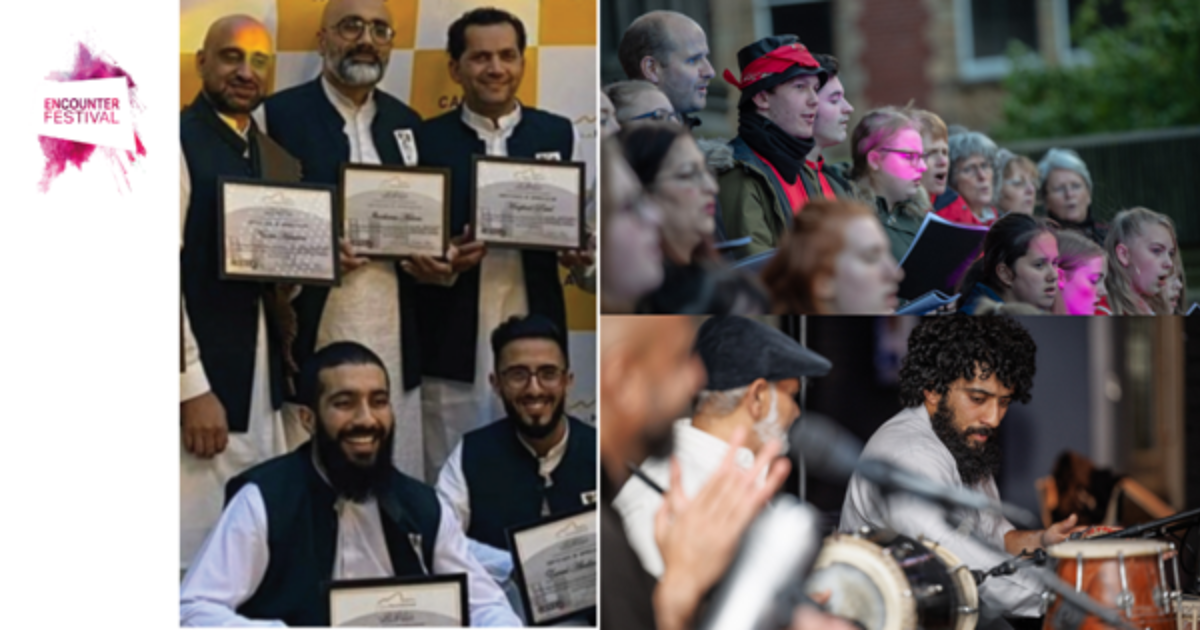 Encounter Festival is proud to announce the Community and Traditions Stage, a vibrant platform that will celebrate local talent and cultural traditions during the festival. Located outside The Guild Hall, Preston entrance on Saturday, 16 September, this stage promises to be a captivating focal point, offering a diverse array of performances that highlight the rich cultural heritage of the region.
Hosting the Community and Traditions Stage will be Hussnain Hanif, a prominent figure in the local community and a respected BBC Radio Lancashire broadcaster. Hussnain will bring his expertise and passion for music and culture to the stage, ensuring a seamless and engaging experience for attendees. Into the evening, BBC Radio Lancashire's John 'Gilly' Gilmore will warm up the crowd while they await the arrival of the festival's spectacular Torchlight Procession.
Throughout the day, festival-goers will have the opportunity to immerse themselves in the beauty of traditional Lancashire Clogging fused with Appalachian flat foot, a dance form that combines intricate footwork and rhythmic movements. This special performance will showcase the talent and artistry of local dancers, bringing age-old traditions to life.
The Community and Traditions Stage will feature local choirs including the Encounter Voices Choir, delivering harmonies and heartfelt performances. These talented vocal groups will represent the diverse musical traditions and talents that flourish within the community.
Swati Dance Company, known for their graceful and expressive movements, will take the stage, enchanting the audience with their performances rooted in classical Indian dance forms. Their choreography reflects the cultural richness and artistic heritage of the region. While Urooj Qawwa are masters of the Qawaali Singing, with their powerful vocals and intriguing rhythm, Urooj Qawwal will offer an unforgettable experience.
Councillor Peter Kelly,Cabinet Member for Culture and Leisure Services at Preston City Council, said:
"The Community and Traditions Stage at Encounter Festival is a true celebration of our local talent and cultural heritage. It brings together diverse performances, from traditional to artistry. This vibrant platform showcases the rich tapestry of creativity that flourishes within our community. I invite everyone to join us at the Community and Traditions Stage, where we will experience the beauty and diversity of our region's cultural expressions."
Encounter Festival is dedicated to showcasing the vibrant cultural tapestry of the region and providing a platform for local artists and performers to shine. The Community and Traditions Stage embodies this commitment, allowing audiences to immerse themselves in the diverse traditions and talents that make Preston and its surrounding areas truly unique.
To book tickets for the festival's ticketed activities, please visit Eventbrite – Encounter Festival. More information about the festival's line up and performances can be found on the Encounter Festival website.
Mark your calendars for Encounter Festival 2023, from 15 until 17 September, a celebration that brings together heritage, art, and community in an extraordinary fusion of creativity. Stay tuned for updates and announcements as we embark on this exciting journey together.
More information
About Encounter Festival
Encounter Festival is an authentic voice for Lancashire, celebrating the breadth of the County's diverse cultural offer with high quality and high-profile arts. Taking place at the end of September, Encounter Festival sees the city of Preston buzzing with life and alight with creativity. The past Encounters have seen an array of spectacular performances, inspiring arts and impressive music, bringing spectators to their feet.
About The UK Shared Prosperity Fund
The UK Shared Prosperity Fund is a central pillar of the UK government's Levelling Up agenda and provides £2.6 billion of funding for local investment by March 2025. The Fund aims to improve pride in place and increase life chances across the UK investing in communities and place, supporting local business, and people and skills.
About Arts Council England 
Arts Council England is the national development agency for creativity and culture. We have set out our strategic vision in Let's Create that by 2030 we want England to be a country in which the creativity of each of us is valued and given the chance to flourish and where everyone of us has access to a remarkable range of high quality cultural experiences. We invest public money from Government and The National Lottery to help support the sector and to deliver this vision. 
Following the Covid-19 crisis, the Arts Council developed a £160 million Emergency Response Package, with nearly 90% coming from the National Lottery, for organisations and individuals needing support. We are also one of the bodies administering the Government's unprecedented £1.96 billion Culture Recovery Funds. 
link