How Lunar New Year traditions stay alive in Asian American communities
7 min read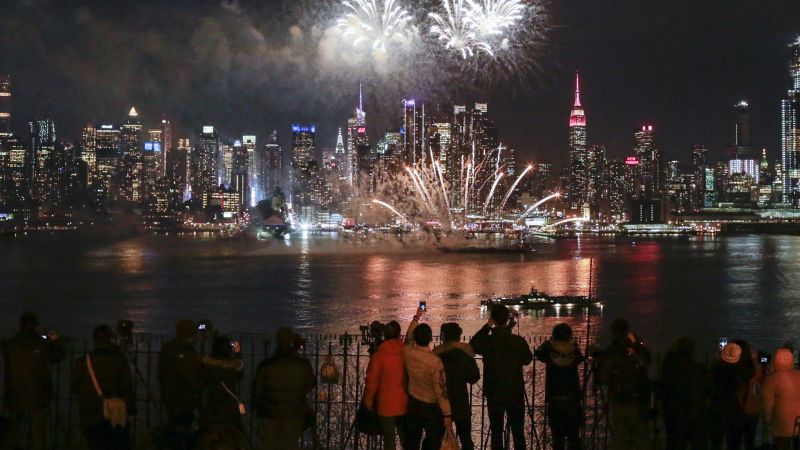 CNN
 — 

As a young girl in Vietnam in the '50s and '60s, Le Ly Hayslip awaited Tết the way many children look forward to Christmas.
The Vietnamese Lunar New Year was a time for welcoming deceased ancestors into the home, and preparations for their arrival would begin months earlier. The house was cleaned, the rice crop harvested and a rooster raised to sacrifice for the altar.
The night before Tết, Hayslip would look to the winter sky for shooting stars – a message from her ancestors. She'd be treated to new shoes and clothes, and if she was lucky, a small toy. And of course, there was the food: bánh chưng, bánh tét and the aforementioned rooster.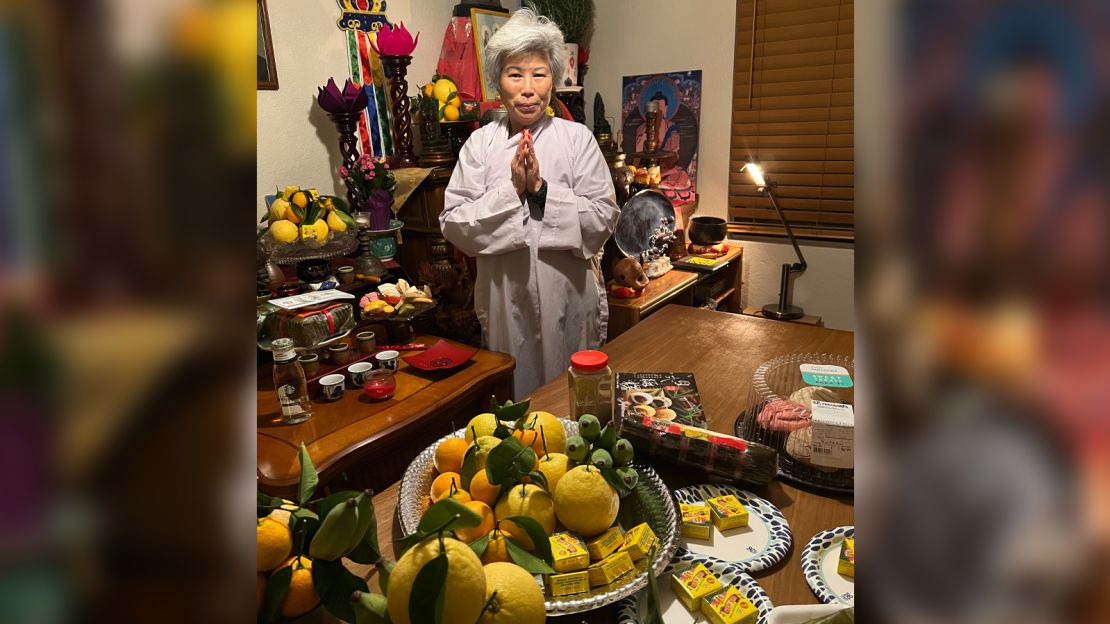 When Hayslip arrived in San Diego in 1970 with an American husband and two children in tow, Tết was virtually nonexistent. There were few Vietnamese people in the area at the time, and procuring incense, sticky rice and other items for the altar was difficult. Finding someone who could raise and kill a whole chicken for the celebratory meal was another ordeal. Still, she made sure that Tết felt as true to her Buddhist traditions as possible.
"Every year in my home, even though I'm over 70, I still do the same thing," the author and activist told CNN. "I harvest the oranges and I harvest the grapefruit that I have around here. The flowers, passionfruit, whatever I can get my hands on, I put at the altar."
It's been decades since Hayslip first came to the US, and San Diego now has one of the largest Vietnamese communities in the country. But while Tết is more widely celebrated these days, it's important to her that the traditions at the heart of the holiday aren't lost.
Come January 22, millions of Americans with roots in China, Vietnam, South Korea and other Asian countries will ring in the Lunar New Year. As waves of Asian immigrants have settled in the US and continue coming over in large numbers, the festival in many parts of the country is no longer the quiet occasion that Hayslip first encountered.
In cities with large East and Southeast Asian populations, family celebrations at home are accompanied by Lunar New Year flower markets, parades, banquet dinners and firework displays. Some public schools have added the holiday to their calendars. Even outside of ethnic enclaves, there's a greater awareness of Lunar New Year, signaled in part by its commercialization in the West – consumers can buy gift sets from Lego and Sephora and paper lanterns and garlands from Target.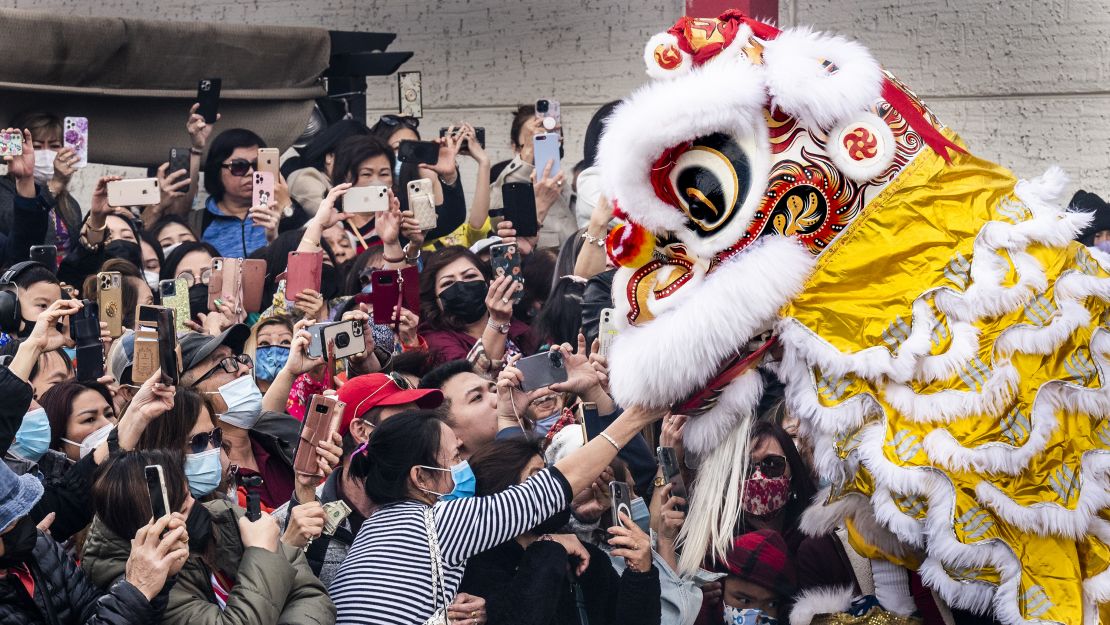 It's a dramatic shift from Judy Leung's early experiences in the US. One of the people behind the popular food blog and cookbook The Woks of Life, Leung found when she emigrated from China as a teenager that Chinese immigrants didn't celebrate Lunar New Year in a big way. Most were unable to take time off from work for fear of losing their jobs, so they marked the occasion through food. The holiday meal might consist of chicken, two fishes and pork, with tang yuan and fa gao for dessert – or perhaps dim sum with family on the weekend of the new year.
These days, Leung has more time to cook an elaborate Chinese New Year feast. She, her husband Bill, and their daughters Sarah and Kaitlin, share festive recipes and food traditions on the family blog to help others plan out their own Lunar New Year menus. As they note on the blog, many of the customary dishes symbolize something: a whole chicken for prosperity, spring rolls for wealth, noodles for long life. Even for novice cooks or those with limited bandwidth, the New Jersey-based family has suggestions for how to partake in the culinary fun.
"As I get older, carrying out the old traditions not only makes me feel close to my roots, but it's like a comforting blanket," Leung wrote in an email to CNN. "It warms me and gives me a strong sense of belonging. More and more, I'd like the younger generations to feel the same emotions and carry on the nostalgia."
Leung's youngest daughter Kaitlin says that as time goes on, she's made Lunar New Year more of a priority. Ahead of this year's holiday, she plans to clean and decorate her apartment and buy something red to wear. She'll make sure to get her hair cut beforehand, so as not to wash her fortune away.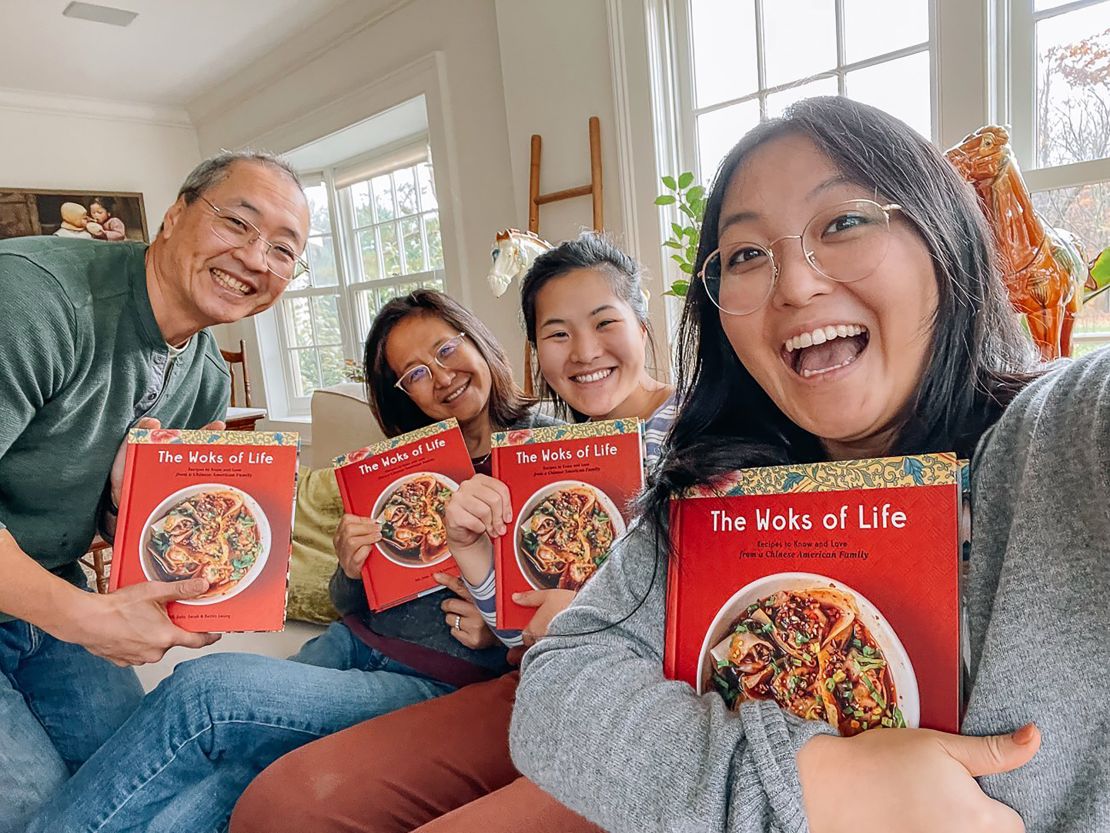 Aside from the usual traditions, Kaitlin is finding other ways to connect with her culture. On a recent trip to a Chinese grocery store, she came across húlu – dried gourds on red string meant to bring good fortune. Her grandfather gave some to her mother a while back to keep in her pantry, but Kaitlin realized that she and her sister didn't have them in their own apartments. So she bought some for both of them.
"Just because I'm getting older, I don't want to let go of those (traditions) and have them fall to the wayside because of other obligations," she said.
Kaitlin says she feels a sense of pride when she hangs her Chinese New Year decorations on her door each year. Given the spate of attacks on Asian Americans between 2020 and 2022, it sometimes felt unsettling to be signaling her Chinese heritage to the outside world. But those fears weren't enough to deter her.
"There's a lot wrapped up into it," she added. "Yes, it's a holiday and it's cheerful. But it's also your identity."
Books and businesses are helping others celebrate

For decades, the storied Manhattan institution Pearl River Mart was about introducing Chinese culture to New Yorkers. But when Joanne Kwong took over the Asian goods emporium from her in-laws Ming Yi and Ching Yeh Chen in 2016, the mission evolved.
Kwong, the daughter of Chinese immigrants from the Philippines who grew up in New York and Seoul, says that today Pearl River Mart is geared toward preserving traditions and cultural knowledge – and that includes helping people celebrate Lunar New Year.
"Many of us don't live with our grandparents anymore," she said. "With each generation, the traditions and the superstitions and what you're supposed to eat and do gets a little bit more tenuous."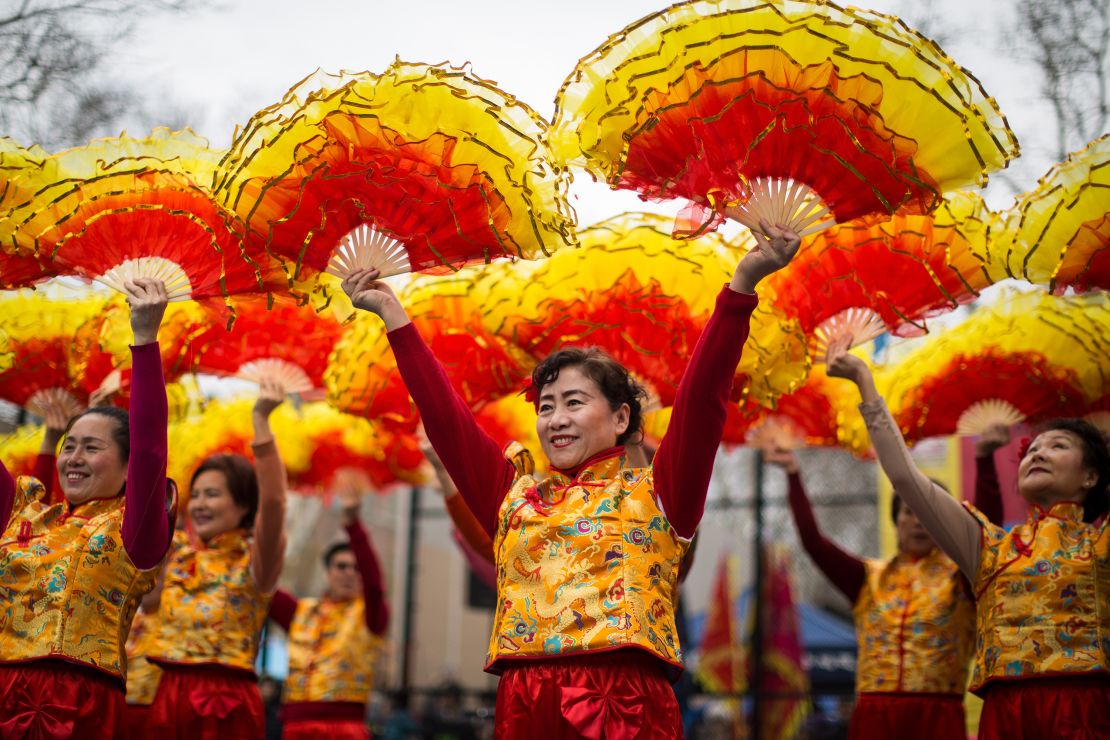 Lunar New Year for Kwong is about togetherness, and she's created opportunities through the store for people to come together for the holiday. Pearl River Mart has three lion dance performances planned in New York over the 15 days of Chinese New Year, along with an ongoing exhibition by the Chinese American artist Warren King at its flagship location.
For those who live elsewhere, the store also sells Lunar New Year gift boxes to help make celebrations more accessible for younger generations. One includes rabbit trinkets, red money envelopes and lucky charms, while another contains the hard-to-find sweets that make up a togetherness tray, which is used to welcome guests for the Lunar New Year. On the Pearl River Mart blog, Kwong shares explainers about different aspects of the holiday, as well as family recipes like the 10-veggie delight that her mother-in-law makes each Lunar New Year's Day.
Through such efforts, Kwong hopes Pearl River Mart can serve as a resource for newer generations of Asian Americans, as well as those who are simply interested in engaging with Lunar New Year celebrations.
"In a city like New York and a country like the United States, it is an expression of solidarity and neighborliness to participate in a holiday that half the world celebrates," she added.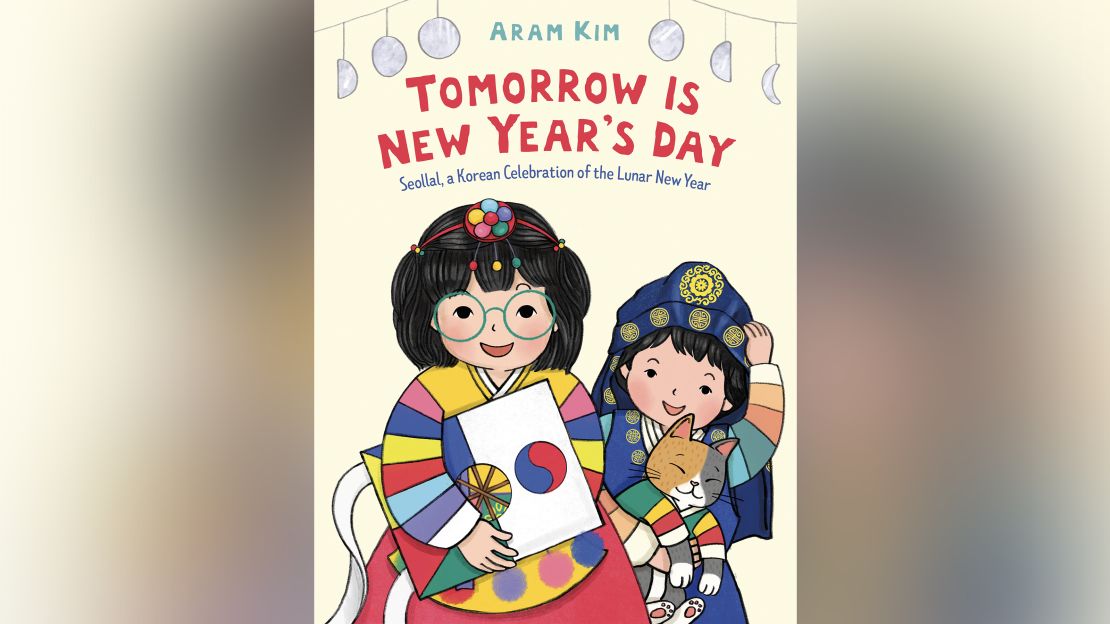 That cross-cultural exchange is partly what illustrator Aram Kim set out to do when she wrote the children's book "Tomorrow Is New Year's Day: Seollal, a Korean Celebration of the Lunar New Year." Though many people are now aware of Lunar New Year, Kim says the holiday is often thought of as primarily Chinese, and one of her Korean American readers wanted a book to help break down those notions.
The conversation eventually inspired the story of Mina, a young Korean American who can't wait for Seollal. Mina's parents come to her school to share their Lunar New Year traditions with her classmates, while Mina wears the traditional hanbok, shows her friends how to perform sebae (the Seollal tradition of bowing to elders to show respect) and eats some delicious tteokguk.
"There are many different cultures that are celebrating Lunar New Year in different ways," Kim said. "It's not always one story or one way to celebrate it."
Lunar New Year in the West is perhaps a bigger holiday than it's ever been. But as the years go on, Hayslip fears that the Tết traditions she holds so dear are slipping away.
As Asian Americans assimilate into Western culture and become burdened with busy lives, Lunar New Year celebrations often get reduced to enjoying a big meal, Hayslip says. But though the next generation's traditions might look different from what she grew up with in Vietnam, they're being carried forward in new ways.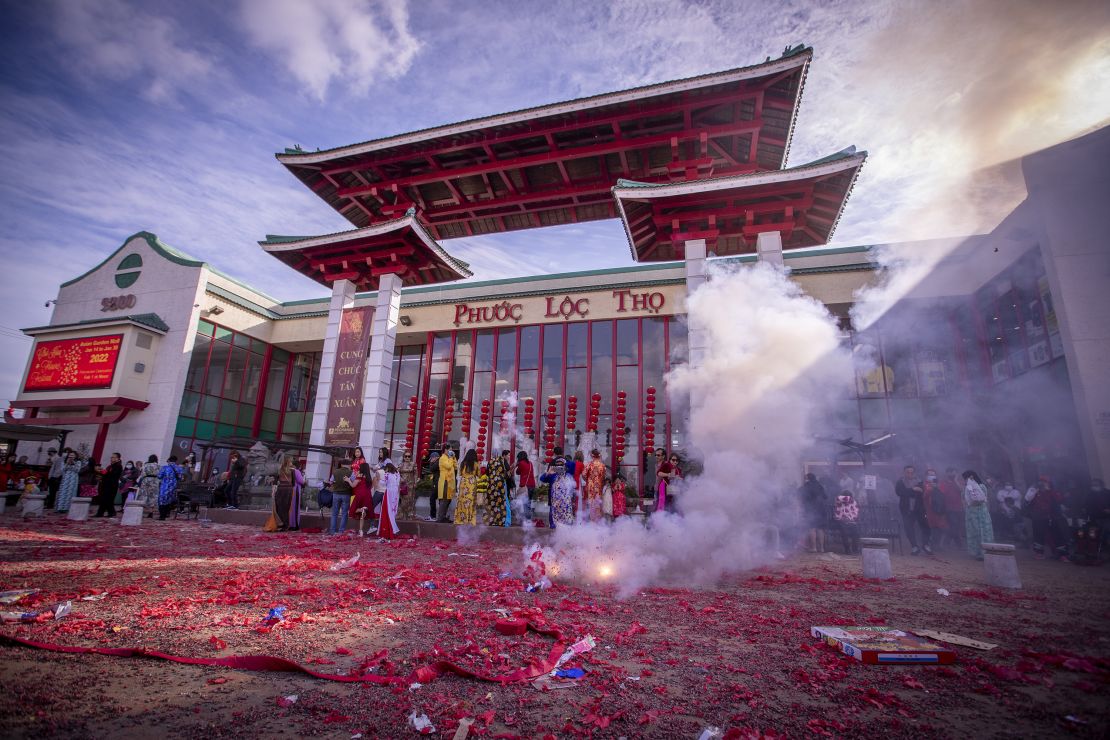 Just as Tết for Hayslip is about honoring her ancestors, her son Thomas sees it as a time to remember and appreciate where he came from. Lunar New Year at his Los Angeles home, where he lives with his wife and two daughters, is a blended celebration.
Thomas marks Tết by lighting some incense and saying a prayer before an altar decorated with bowls of rice and fruit. He doesn't consider himself Buddhist, but he says the ritual helps him realign and reconnect to who he is each year. He also invites his friends, many of whom aren't Vietnamese or Asian, to participate in whatever way that makes sense to them. After the ceremony, he and his wife Sandy – who is ethnically Chinese from Vietnam – host a big party at their home, with gambling games and a mix of Vietnamese and Chinese dishes.
"We all look for times of the year that we can have a reason to come together and be thankful and remember things and commune with our friends and eat good food," Thomas said. "Luckily, my culture brings another day into the mix."
link