How Miffy Became An Asian Icon
5 min read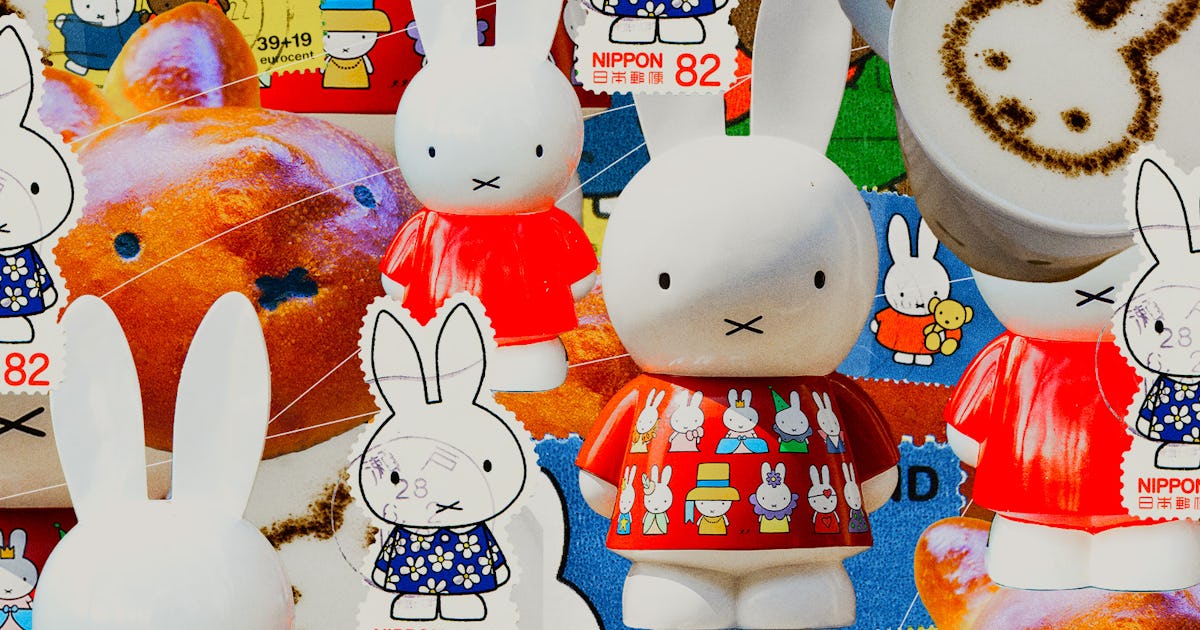 While TikTok brought Miffy into the mainstream in 2021, Asian people across the globe had already been more than acquainted with her for decades. For them, the simple white rabbit had been their childhood, and now as they've grown up their adulthood.
"She's the voice of our generation," says Fashion Journal editor Maggie Zhou. "She loves her parents. She loves being cute and youthful. She wears red. Tell me that's not Asian."
Despite popular belief, Miffy is not of Japanese, Chinese, or Korean origins, but rather, Dutch. So why does Miffy resonate so deeply with the hearts of the Asian diaspora?
Illustrated by Dick Bruna, who auspiciously was born during the year of the rabbit, a single Miffy was an arduous task spanning several days. The process was intentional, taking layers of transparent paper and painstakingly drawing her outline over and over until he and his wife were satisfied.
"The shake in line really represents [Bruna's] heart [beat], because he was always kind of painstakingly doing this very slowly," says Mark Teunissen, a senior project manager at Mercis bv, the Dutch publishing house that owns the rights to Miffy.
Then came paper sheets in Bruna's signature colors — green, yellow, red, and blue — that he would cut and slide under the transparent paper to brighten Miffy's world. Often playing with minimal designs and negative space, his design philosophy was to leave room for the imagination, to let the mind play.
(Since Bruna's death in 2017, no more Miffy illustrations have been made. Mercis bv, who manages and protects Bruna's philosophy and designs, only works with his original illustrations.)
Bruna's approach was beloved in Japan, being similar to Sanrio characters like Hello Kitty with clean lines and sweet characterization. In the early '60s, Miffy was picked up by a Japanese publishing house where her journey of being quintessential to Asian girlhood began for Shannen Young.
Young was four years old when her dad came back from a business trip in China and brought back a Miffy doll. As a Chinese New Zealander, her Miffy felt like a special connection to her heritage. But it was more than that; her Miffy was like her: quiet, a bit shy, observant.
Now at 28 years old, Young's Miffy has been packed in every single move, got lost at one point, and was rediscovered in her parent's closet looking very dirty and lonesome. With one part laundry detergent and another part warm water in a spray bottle, she carefully gave her Miffy a bath.
"With anything that you keep as a child into your adulthood, it's that connection of what it meant to you as a kid. It's a hard feeling to describe sometimes but you just know it's quite special," Young says.
While the West's culture of cuteness is only deemed appropriate for children and babies before it's considered "infantilizing," the Asian idea of cuteness is lifelong.
"There is a broader application to [cute] in East Asian cultures because that word simply just refers to anything that deserves love and affection," says Joel Gn, an adjunct lecturer at LASALLE College of the Arts in Singapore.
Instead of relegating a Miffy to a child's toy, the Asian idea of cute relegates Miffy as someone to take in and take care of regardless of age. The proof is in the pudding: for the year of the rabbit, brands led the charge with coveted (and adorable) collaborations with the likes of Tommy Hilfiger and Mulberry.
"What is interesting in East Asia [is] the way [the countries] not just challenge what more dominant notions of what cuteness is about, but expands the possibilities of what cuteness can be," says Gn.
It seems like the Western cuteness paradigm has shifted. More than half of adults bought themselves toys in 2022. Sonny Angels have become Gen Z's darling. Ribbons and bows cover bags, hair, and bodies. While O.G. Miffy fans are happy others are finding joy in her, it's complicated. For Zhou, she remembers being bullied for watching anime and listening to K-pop before they were embraced by the West.
"It's almost like these hobbies and these interests are normalized once white women say that they are acceptable," she says.
But despite whatever longevity Miffy has in the mosquito-brained trend cycle, Zhou will love the rabbit for the rest of her life. For her, Miffy is not about consumerism, but rather the belief that childhood doesn't have to end.
"[Miffy] also shows that there's so much to be gained from shared joy," says Zhou. "The other saying is a burden shared is a burden halved, but it's almost like the joy shared is a joy doubled."
As the daughter of Bangladeshi immigrants, Fabliha Yeaqub's story is of the immigrant daughter who had to grow up too quickly, toughen too soon.
Living at home with her immunocompromised parents, messages came daily of loved ones dying from Covid. There was so much pain and it seemed like there were no solutions in sight. Yeahqub's anxiety reached an all-time high. She needed to be soothed. So, like a mother calming an infant, she put on a lullaby — Miffy's Dream lullaby to be exact. The soft song lulled her and quickly became part of her routine; she listened to it daily while journaling or sleeping.
"I'm just trying to heal the fact that the world really tried to harden me," says Yeaqub. "Miffy is my way of reclaiming myself and just be okay. That it's okay to be soft. That it's okay to be gentle."
When her mother became sick with a heart-related issue, community elders, some whom she had only met once, dropped off food until their fridge overflowed. For Yeaqub, Miffy represents that same essence of showing up for each other that's prevalent across Asian communities: "​​When the pandemic hit New York City, the government failed us and we had to take up mutual aid, and really show up for each other. Miffy is kind of an ode to that, an example of how we should take care of each other and show up. Miffy is a true comrade."
Yeaqub turned 24 this year and as an ode to 23 — the year she had her first love, lost a dear friend, and took the good with the bad — she had Miffy tattooed on her thigh as a birthday gift to herself.
"Miffy, for me, has always represented what it means to be Asian."
link