Miniature Butter Cow Contest becoming a tradition, too | Arts Features
3 min read
click to enlarge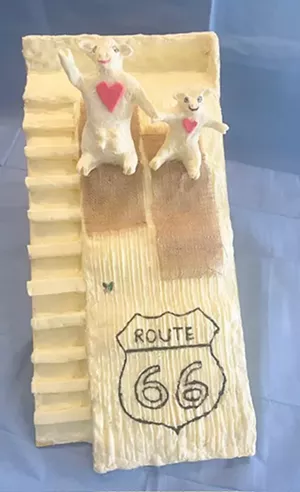 The iconic butter cow sculpture is a perennial "must-see" at the Illinois State Fair.
Since the 1920s, the life-size figure traditionally made of 500 pounds of unsalted butter has drawn crowds of fairgoers to the Dairy Building.
Bessie and her friends in the exhibit are no longer the only butter sculptures there, though, after a new annual event began in 2020.
That year the fair was canceled because of the pandemic and there was no butter cow display. But not to fear! A contest sponsored by Illinois Times and Prairie Farms Dairy put the sculpting of miniature butter cow creations into the hands of the people.
Fast forward to this year. The top three finishers, in order, are Dr. Diane Hillard-Sembell of Springfield, Pam Martin of Alexander and Colette Ellenberg, also of Springfield. All three are contest veterans, having taken part since the first year.
"I love art and the challenge, something fun and something different," said Hillard-Sembell, who specializes in orthopedic knee surgery and sports medicine at Springfield Clinic. "Even though we're adults we can still have fun."
Hillard-Sembell's work this year features a cow and calf on the Giant Slide. The slide is complete with the new Route 66 sign logo.
Fittingly in the doctor's sculpture, both cows wear pink hearts for health care, made of colored butter.
The hearts were a challenge in themselves to make, Hillard-Sembell said. Why? It's hard to paint butter.
click to enlarge
"Sharpies don't work on butter," she said. The ink doesn't stick and the Sharpie is ruined. Instead, she had to make grooves in the butter to hold the paint.
In all, the surgeon worked on the project over the course of six nights. The project started with building a model and then construction of a frame, just like the real butter cow. "It's a process with multiple stages" of softening the butter, sculpting, cooling and repeating the process.
Martin took first place last year. She said back in 2020 she thought the contest would be a fun thing to try and has stuck with it.
"I love everything about the fair, but the butter cow is truly my favorite attraction," she said.
Martin's work this year – created in one session – features a cow riding a mechanical bull.
In all, it took about six hours of work, said Martin, who agrees with Hillard-Sembell about the process of working with butter. "You have no idea how hard it is to sculpt butter in a 75-degree kitchen," she said.
About five pounds of butter are in Martin's sculpture. Her description of the sculpture is simply loaded with puns, too. "The steaks are high on the Illinois State Fair's mechanical bull. Butter be careful there, Bessie, or you'll end up on your dairy-air," it reads in part.
click to enlarge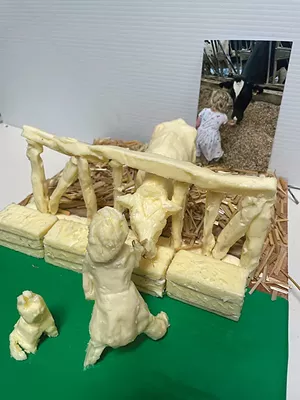 Appropriately enough, one of Martin's grandfathers was a Modesto-area dairy farmer who sold his milk to Prairie Farms Dairy in Carlinville.
Third-place finisher Ellenberg said her sculpture was inspired by a picture of her sister's granddaughter feeding a cow. It took her three or four days to build, she said.
"My technique is to just work on it for a little until it gets too soft, then put the project back in the refrigerator until it hardens up again," Ellenberg wrote on her entry. "The only tool I used (was) a small paring knife and my fingers. I did use a couple sticks to make the fence and a couple toothpicks for the little girl's legs, too."
This year's finalists won cash prizes of $200, $100 and $50.
The sculptures will be on display in the Prairie Farms Dairy case next to the actual butter cow, which is set to be unveiled Aug. 10.
Moove over, Bessie
Aug. 10-20, during daily fair hours
llinois State Fairgrounds, Dairy Building, Central Avenue
Free, 217-782-6661
link