Pernod Ricard Korea recertified as exemplary institution sponsoring culture, arts
3 min read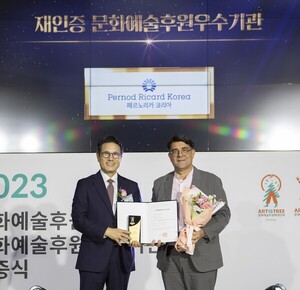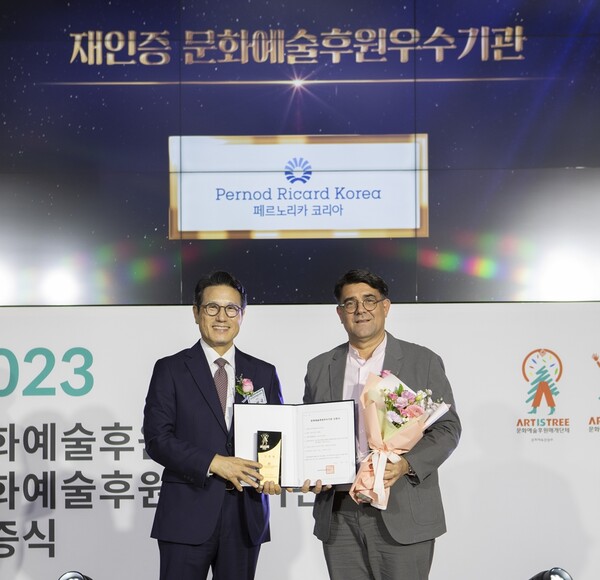 Pernod Ricard Korea, the Korean affiliate of the global wine and spirits company Pernod Ricard, announced on November 9 that it has been recertified by the Ministry of Culture, Sports and Tourism and the Arts Council Korea as an 'Exemplary institution sponsoring culture and arts.
This certification program is aimed at strengthening support for Korean culture and arts by selecting organizations or companies that particularly excel at fostering it or otherwise play an exemplary role in a relevant field. Every year, organizations or companies that demonstrate outstanding cultural or arts sponsorship and achieve outstanding results are awarded certification after a careful assessment.
Pernod Ricard Korea received its first recertification this year after being initially certified as an exemplary institution sponsoring culture and arts in 2020, along with a total of 23 other enterprises such as Shinsegae, Sempio Food, and S-Oil.
Pernod Ricard Korea received the certification in recognition of its contribution to the development of traditional Korean culture and arts through the Pernod Ricard Korea's Gugak Scholarship Program. The company has continuously conducted the program since 2002 in partnership with National Gugak Schools. Each year, the company offers the scholarship and the performance support fund to the talents of National Gugak Schools with good grades and lofty potential. As of 2023, the sponsorship has been provided to 695 Gugak talents, totaling approximately 2.6 billion KRW.
Furthermore, Pernod Ricard Korea's brands such as Ballantine's, Royal Salute, Absolut Vodka, and Perrier Jouet, have consistently engaged in collaborations with renowned emerging domestic and international artists, broadening opportunities for the public to appreciate and enjoy culture and arts.
In 2021, Royal Salute, Seoul Auction, and five domestic contemporary artists collaborated to present the 'Royal Salute Contemporary Art Digital Festival,' showcasing ten contemporary works of art. These artworks were sold through an online auction hosted by Seoul Auction after the exhibition. The proceeds of 33,750,000 KRW generated from the auction were donated to the Gyeonggi Cultural Foundation's 'Art Gyeonggi x Seoul Auction <ZERO BASE>' auction project, contributing to the promotion of emerging Korean artists and the development of K-art.
Frantz Hotten, CEO of Pernod Ricard Korea, explained, "Pernod Ricard deeply values culture and the arts. One of the key values upheld by the group is to respect the culture and arts in the local community and make efforts to further activate them. We will continue to create opportunities to share culture and the arts with the public through our continuous supports."
Meanwhile, since the announcement of its 2030 Sustainable and Responsible (S&R) roadmap 'Good Times from a Good Place,' which is structured around four key pillars: Nurturing Terroir, Valuing People, Circular Making, and Responsible Hosting, Pernod Ricard has been implementing the roadmap across its affiliates around the world. Pernod Ricard Korea sponsored the 'Cultural Communication Forum 2023' hosted by the Corea Image Communication Institute (CICI) in June as part of its commitment to 'Valuing People'. The company took part in the sponsorship to emphasize the importance of diverse cultural communication and to promote Korean culture to the world as the forum brought together cultural leaders from a range of countries.
link